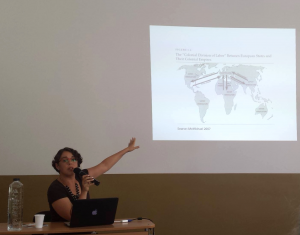 MANUELA BOATCĂ is Professor of Sociology with a focus on macrosociology and Head of School of the Global Studies Programme at the Albert-Ludwigs-University Freiburg, Germany. She was Visiting Professor at IUPERJ, Rio de Janeiro in 2007/08 and Professor of Sociology of Global Inequalities at the Latin American Institute of the Freie Universität Berlin from 2012 to 2015. Her work on world-systems analysis, postcolonial and decolonial perspectives, gender in modernity/coloniality and the geopolitics of knowledge in Eastern Europe and Latin America has appeared in the Journal of World-Systems Research, Cultural Studies, South Atlantic Quarterly, Political Power and Social Theory, Social Identities, Berliner Journal für Soziologie, Österreichische Zeitschrift für Soziologie, Zeitschrift für Weltgeschichte, and Theory, Culture and Society. She is author of Global Inequalities beyond Occidentalism, Routledge 2016 and co-editor (with E. Gutiérrez Rodríguez and S. Costa) of Decolonizing European Sociology. Transdisciplinary Approaches, Ashgate 2010 and of Global Inequalities in World-Systems Perspective (with A. Komlosy and H.-H. Nolte), Routledge 2017.
PATI MURG is currently studying a master's degree in Advanced Sociological Research, after finishing her bachelor degree in cultural anthropology at the Faculty of Sociology and Social Work in Cluj-Napoca. She has also been involved in various research projects such as one regarding the marginalization of the rroma people in Târgu Mureș, Panet, together with the Caritas Association, and another research on working conditions in Zalău.
PATI MURG: Before diving into the topic of Telciu summer school, I know that you are a professor of Sociology at the Institut für Soziologie of the Albert-Ludwigs-Universität Freiburg, Germany. I'm curious how did you start your journey in the sociological world?
MANUELA BOATCĂ: I studied English and German philology in Bucharest in the 1990s. There were not many options after getting a degree in foreign languages and literatures back then: One was teaching, another was becoming a professional translator, and finally, the one a lot of my colleagues chose, was a job as a foreign language secretary in one of the many companies that were being set up back then. I didn't see myself in any of these fields, and I was especially convinced that I didn't want to teach, because my parents had been high school teachers and I thought their job was frustrating more often than it was rewarding. I was wrong, but that impulse led me to consider doing a degree in sociology, because one of the philology classes that had most interested me was sociolinguistics. I went to Germany to do an M.A. in Sociology, but this was before the Bologna process and there were no M.A. programs in Germany then. I was given the option to do a PhD instead, and that's how I became a full-fledged sociologist – and a migrant in Germany.
I had always wanted to get more involved professionally in Romania
PATI MURG: How did the whole Telciu Summer School process start and how did you get involved in the organizing team?
MANUELA BOATCĂ: I met Valer Cosma in Berlin, where I was working at the time, at an event of the Romanian Cultural Institute in 2014. He told me about the Telciu Summer Conferences that he had been organizing for three years, showed me some of the conference publications and asked whether I was interested in co-organizing the next edition with him. I had always wanted to get more involved professionally in Romania and to somehow pay back for the education I had received there, but my attempts at doing so in Bucharest had never quite taken off. So I thought this was a great opportunity to give it another try, and to do so in Telciu was particularly enticing. I found Valer's idea of establishing a regular academic event in the village of his birth to be very much in line with a critical, decolonial approach to knowledge production, both for upstaging big university centers as the only possible sites of academic knowledge and for being located in the very setting about which knowledge was being produced, the rural world. This is why we decided to make decoloniality and rurality the focus of the next conference, that we organized jointly in 2015.
PATI MURG: What's the link between the conferences and the summer school?
MANUELA BOATCĂ: There was a lot of interest in the 2015 conference, both nationally and internationally. Many of the participants had their own projects that linked well with a decolonial perspective and with the idea of connecting it to the rural, so a two or even three-day conference became almost too short for the amount of initiatives that the topics mobilized. So we decided to add a one-week summer school to the Telciu Summer Conferences, which we first did in 2016. In the meantime, the summer school became its own project that took over the conferences and is drawing its own, wider public and a large team of organizers.
PATI MURG: I know that every edition has its own theme, last year it was about "(Dis)Locating Europe: the East, the Other and the Rural", this year it was about "Labor Dystopias and Redundant Humans: Slaveries, Serfdoms, Precariousness". What's the process behind choosing each edition's theme?
MANUELA BOATCĂ: In the beginning, it was mostly guesswork, trying to match the interests of a critical, leftist and/or decolonial national and international audience with issues that we thought were important to an understanding of the rural world in the European East – like the relationship between modernity and rurality, processes of othering labor, and prevailing social scientific theories to the peasantry, the village, and agricultural work. As the conferences and the summer school became more established and many participants became regular guests and sometimes co-organizers, we now try to have some continuity between topics from one edition to the other as well as to tease out those aspects that surfaced one year but were not prominent enough to be discussed in depth – so we give them more prominence the following year. This was the case with discussions of Roma enslavement last year, which, together with issues of forced labor, indentureship and precariousness, became the topic of this year's summer school.
we encourage participants to ask their own questions, give examples, and actively shape the class
PATI MURG: The first year I came to the Telciu Summer School, I remember I didn't have too much knowledge about decoloniality, but I managed to pick up some interesting terms, like the importance of domestic labor, coloniality in Europe and so on. Do you think it's important to have a theoretical background before coming to Telciu?
MANUELA BOATCĂ: It is certainly helpful to have some background, and it is becoming easier to do so every year, because one can take a look at the online archive of past events and go through some of the titles in the bibliography. But it is not a precondition for participation. All classes have an introductory part which allows new participants to get the necessary basics and recurrent participants to apply the already known terms to the new topic, so it is never just redundant to anyone – at least we hope so. Also, classes increasingly have more of a workshop than a lecture format, so we encourage participants to ask their own questions, give examples, and actively shape the class. That way we can adjust the amount of introductory material that is necessary to the needs of individual classes.
PATI MURG: Why is Telciu an important place to go to, and if so, what would you recommend to the future participants?
MANUELA BOATCĂ: People have different needs and expectations from a summer school and there certainly is no one thing that makes the Telciu Summer School important for everyone. But I think the fact that it meets many of these needs is what makes it indispensable for so many people at the same time: It reunites critical perspectives from academia, theater and cinema, and the art world more generally in one place under one topic, once a year. If you are interested in leftist, decolonial, radical projects being developed in Romania, in the European East, and in many other parts of the periphery and semiperiphery, you will very likely find them in concentrated form at the next edition of the Telciu Summer School. If you are part of the growing Romanian diaspora and can only come to Romania sporadically, make the Telciu Summer School one of your visits and get a pulse of what has been stirring Romanians' emotions and sociopolitical and economic tendencies in the past year. It has the same effect as taking an effervescent pill – with a taste of what's going on!
PATI MURG: Telciu seems like a magical place so far, because there is a variety of activities, like going to the courses, or engaging with the locals, movie screening, visiting the rural area, but are there any other events similar to the Telciu Summer School?
MANUELA BOATCĂ: You mean elsewhere? Yes, the Decolonial Summer School in Middleburg, the Netherlands, which has been going on for ten years now, reunites decolonial perspectives from all over the world and some of our lecturers at the Telciu Summer School, like Ovidiu Țichindeleanu and Madina Tlostanova, have been involved with the Middleburg Summer School as well. Another, extremely important initiative reuniting performance, activism, and Black European perspectives has been the Black Europe Body Politics (BE.BOP.), founded and curated by Alanna Lockward at Art Labour Archives and based in Berlin, Copenhagen and London. Again, here, artists and academics teaching and performing at the Telciu Summer School are regular co-organizers and participants in BE.BOP. – like Julia Roth, Tanja Ostojic and myself.
the politics that matter, the most promising activism, political theater, the documentaries and movies being screened
PATI MURG: What was one of your favorite things about the summer school?
MANUELA BOATCĂ: The fact that it is such a compact way of getting in touch with what most interests me about Romania, but is more difficult to access when you live abroad: the politics that matter, the most promising activism, political theater, the documentaries and movies being screened. It's a way of feeling politically at home – and at ease – for a concentrated, intense period of time. That is incredibly energizing.
PATI MURG: Looking at the three editions of the summer school, can you see any differences or changes from one year to another?
MANUELA BOATCĂ: Yes, the first edition was of course more tentative and classes had more of a lecture character. We are now moving towards a workshop character, which I thought was especially successful this year with Tanja Ostojic's workshop and performance. We now also schedule morning classes later and schedule tours or a free morning every year to allow for information to settle, the occasional party to end late, but still have everyone back in class with their batteries filled, even if that means less classes.
PATI MURG: Finally, what are some plans for the next edition?
MANUELA BOATCĂ: The conferences and the summer school will now have the same topic in order to have a continuity of discussions from one event to the other as well as the possibility to explore the topic in more depth. This year, the need to engage in more detail with the concept and consequences of race and racism in an Eastern European context became especially clear, so we will certainly give it a prominent place in the next edition.